The EPC document tsunami is coming. Make sure your project is prepared with tools that will make doc controllers & suppliers more efficient when processing this wave of information.
Although some will say document control is an out-dated practice, the truth is, major engineering and construction projects remain measured and managed by contracts that specify documents as the unit of progress over time and cost. And when you consider this against a) the massive volume of documents (i.e. 1000s) that get generated over the life cycle of major projects, plus, b) the fact that these projects are hugely regulated, document control remains, and likely will remain, an essential practice to helping manage risk on these complex engineering & construction projects. And now, with an unprecedented global shift to move employees home to work remotely, document control will prove even more valuable since it will help to ensure (and enforce) project processes and standards continue to be followed while employees work from individual locations. But the key to handling these document control challenges effectively in today's world is by being prepared early on with a software solution that supports your document processing.
The Document Tsunami at EPC Phase - Be Prepared
With documents continuing to remain at the center of the owner-contractor relationship, projects must be prepared to exchange, process, and distribute large quantities of documents according to tight contractual time lines. During the EPC phase, the exchange of documents turns into a tsunami with thousands of documents being created and circulated. If projects do not prepare in advance for this massive wave of information, they will struggle to keep their project on track. To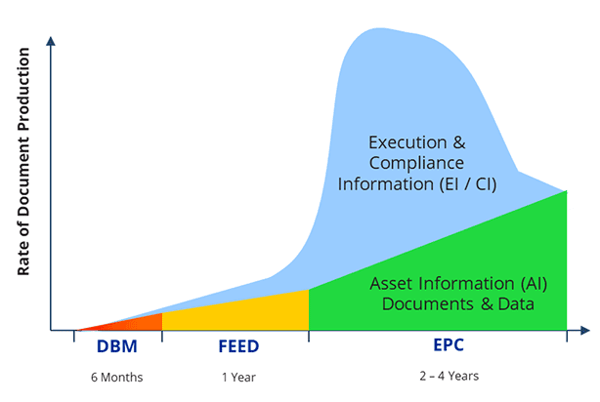 Known Limitations of Document Control Software
It's true that document control is a proven and well-understood discipline that has been used to help projects manage the document tsunami on their projects for many years. But, at the same time, available document control solutions have struggled to meet their full potential due to some very well known problems:
Lack of adoption across non-document control users (e.g. clients and subcontractors)
Time-consuming metadata entry on file submissions
Risks of collaborating on documents outside of the document control system (e.g. email, Dropbox, or Sharepoint)
Not Your Old-School Document Control Solution
To address these known issues and keep innovating to make managing the document tsunami more efficient, Coreworx worked closely with existing document control clients to design software tools that would specifically help teams overcome these known hurdles. Some of the new features include:
improved process automation
fast match to official documents based on content and context for document controllers
simplified and user-friendly tools that promote easy exchange of documents with clients and contractors
Webinar: New Tools & Strategies for Document Control
If you are interested in hearing more about these new Coreworx Document Control tools and strategies, watch our webinar recording where Joel Gray, Product Director at Coreworx, discussed the challenges of the EPC document tsunami and then demonstrated new Coreworx tools to help improve efficiencies in this process for suppliers and document controllers.