"Request for information, the essential question and answer process used in engineering and construction projects, is often a thorn in the side of project teams. Untimely responses or incorrect information can impact the schedule and make it difficult to close out a contract. When monitored effectively, RFIs are indicators of risk and can provide opportunities to avoid costly changes and future claims."
Coreworx Request for Information Features
Coreworx RFI ensures project team members get the info they need within a timely manner.
Ensure Timely Responses from the Right People
---
With the Coreworx Request for Information (RFI) solution, information requests and technical queries are always responded to by the right people in a timely manner. Managing RFIs in one central location allows project managers to monitor negative trends that indicate possible areas of risk that can be proactively addressed to keep the project on track.
---
Capture the Information Exchange
---
Project teams can't rely on emails and spreadsheets to capture the RFI and associated documentation. Coreworx RFI uses a single form to describe the request, identify the applicable project area & potential impacts, and attach the required documentation. Each interaction and correspondence exchange are captured to provide a complete historical record.
---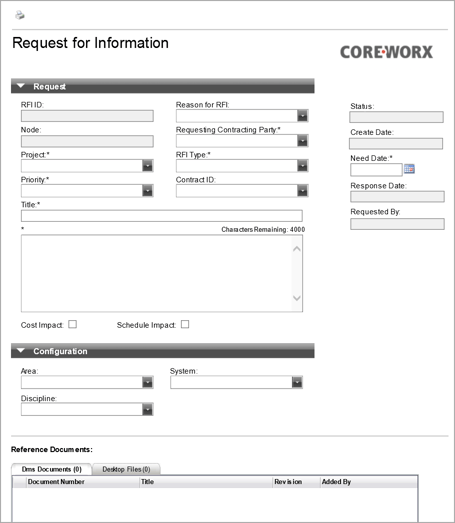 Control the RFI Process

---
When the team is faced with numerous RFIs and contractual commitments for timely response, a manual approach to coordinating, tracking, and expediting often fails. Coreworx workflow automates routing to the appropriate subject matter experts. It also locks in turnaround times with configurable step durations and auto-escalation, while giving you the flexibility to intervene and expedite when special circumstances arise.
---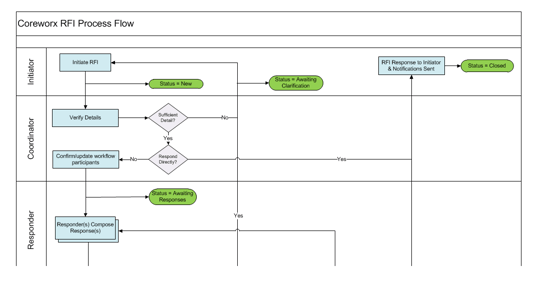 Monitor Changes
---
RFIs have a significant impact to the project's schedule and/or cash flow. You need transparency to change-related activities to see indicators of risk. Coreworx RFI gives you dashboards and reports with red flags and drill-down capabilities to detailed information and mitigation actions.
---
Learn More About Coreworx Solutions