---
Controlled & Time-Driven Document Verification, Review, and Distribution
Coreworx Document Control software helps major engineering and construction projects manage, process, and collaborate on large volumes of project documents and information. This proven software helps reduce information management risk by ensuring teams comply with organizational practices, adhere to quality standards, and gain early insights to potential issues for mitigation.
Coreworx Document Control software includes 25+ years of purpose-built enhancements defined through partnerships with the world's leading owner/operator and EPC companies. It's a highly configurable system that meets the unique needs of each project while supporting the overall policies and governance requirements of the entire organization.
Project Document Volumes Example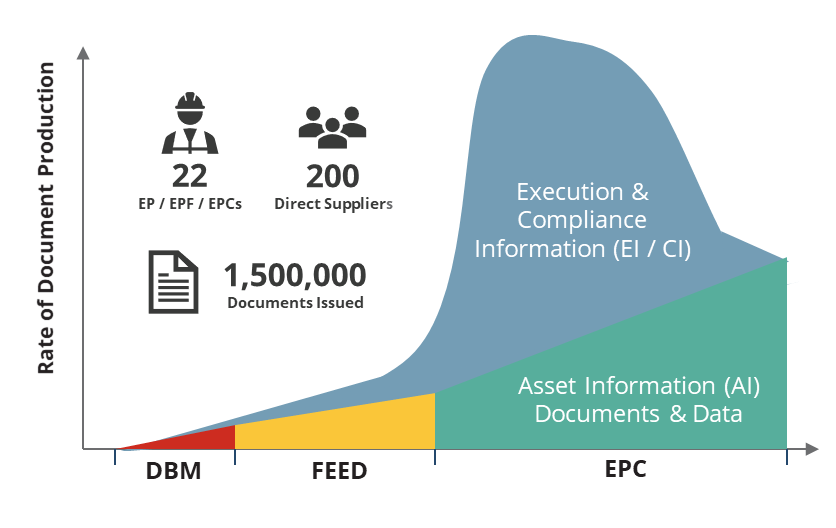 Coreworx Document Control Software Benefits
Ensure Compliance to Policies

Automate work processes to project policies
Enforce standards for information quality and categorization
Permit exceptions without loss of corporate governance

Reduce Errors & Rework

Ensure information revision control and integrity
Control distribution & access to key stakeholders

Identify & Mitigate Risk

Gain visibility to potential issues
Assign and execute corrective actions

Improve Team Performance

Efficient access to information
Enforce time-driven process completion
Reduce information processing effort & time

Reduce Claims & Resolve Disputes

Maintain complete historical database
Enable efficient and thorough discovery
Leverage a document management system designed to control the large volumes of documents on engineering and construction projects. The purpose-built Coreworx EDMS supports document control practices with the following tools.
Engineering Document Management System (EDMS)