Coreworx Packaging
Organize and manage your project work effectively from planning through to handover.
Why Coreworx Packaging?

There are many critical applications of packaging in engineering and construction projects, from the early planning stage to handover of the built asset. Coreworx provides versatile packaging functionality enabling you to plan, develop, approve, issue and track completion of project work. Coreworx's excellence in project information management makes this capability unique in the industry.
Planning
Allocate package items, define numbering & weighting, integrate schedule & estimates
Distribution
Issue transmittals, invitations to bid, send for approval, link correspondence, handover
Tracking
Measure progress, identify risk, monitor resources, expedite work, manage change
History
Audit log, revision history, relations, workflow history,
performance history
---
Packages for Planning
---
Coreworx can import or integrate planning data such as scope, activities, dates, hours, etc. from your scheduling and estimating systems and apply this data to packages. Configurable milestones and weighting enable planners to set different rules of credit and progress measurement for package items.
You can identify and categorize planned work items in packages quickly and start tracking them immediately. Planners define many types of items including documents, interfaces, service items, equipment, materials and labor. An integrated allocation process supports bulk loading and numbering of planned work. To make it easy for team members and external recipients to view sets of work items in a larger package you can organize them using hierarchical folder structures and categories.
Distribution of Packages
---
Coreworx saves time and gives you control over the preparation and distribution of packages within the system and outside of the system. When issuing packages to external recipients the system generates cover pages, creates compressed (ZIP) files including folder structures, creates pick up areas in the online portal and sends email notifications. All distribution events and receipts by external parties are captured in the historical database. You can also issue packages within the system, such as sending them on squad checks or design reviews, using integrated workflow processes.
Coreworx Contract Management has additional package features that control issuance of contract bid packages and addenda to bid list members and control the submission of technical and commercial bids for evaluation. Line item quantities are summarized and distributed in a Microsoft Excel form, enabling bidders to complete quantities and rates.
Receiving deliverables from external parties is supported by features that match them to packages, validate data against package requirements and save deliverable revisions.
---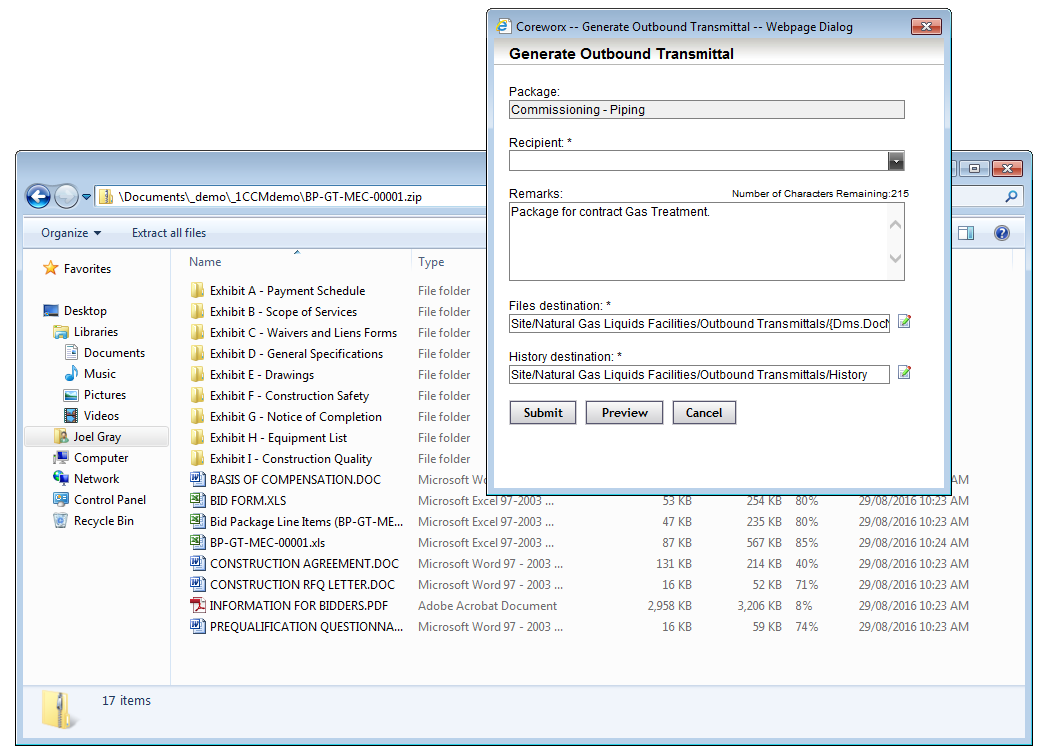 Tracking of Packages
---
Whether you're planning, distributing, or executing package work items, Coreworx gives you clarity on status and progress of packages. Package registers let you summarize, filter and sort packages and see tracking details. You can view interactive dashboards and generate detailed reports. A workflow monitoring area shows "ball in court" work assignments for packages and gives you expediting options.
Percent complete values let you track package progress, and weighting values support rolling up progress tracking to contract or project levels. If you've linked documents to packages the integrated document lifecycle features track revision activity and alert you to updates.
Package History
---
Your packages with all artifacts and activities are recorded in Coreworx's historical database. Each package is stored in a secure archive that includes revision history, metadata, links to related items and audit events. When you distribute a package via transmittal or workflow the system captures every interaction with originator, recipients, dates and times. All system-generated artifacts, such as PDF cover pages and MS Excel line item worksheets, are captured in the archives
Coreworx supports mining the historical database with detailed reports and interactive filters such as contracting parties, users, actions and date ranges. Reports can be exported to Microsoft Excel for analysis or Acrobat PDF for read-only distribution.
---