Monitor progress of project deliverables to speed project execution
---
The downstream impact of missed or unresolved deliverables can result in significant schedule delays and cost overruns. Designed to align with industry standard practices the Coreworx Deliverables Management software ensures the quality of accepted document or form-based deliverables throughout the project lifecycle effectively speeding time to project completion.
Each Coreworx solution runs on an enterprise-class platform that includes a document management system, workflow engine, and web-based collaboration tools – all of which are set-up based on industry best practices for specific work processes, but can be easily configured to meet the unique needs of any project.
Manage Project Deliverables for Reduced Risks

---
MONITOR

Track progress & calculate earned value

MITIGATE

Address potential deliverable issues

INTEGRATE SCHEDULE

Integrate with project scheduling tools

ENSURE QUALITY

Drive consistency across projects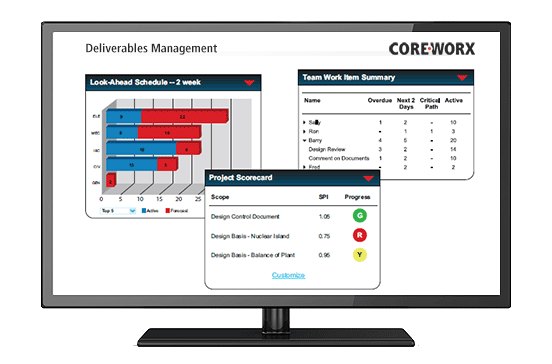 Coreworx Deliverables Management Features
Coreworx Deliverables Management helps to track progress on document deliverables:
Schedule Planning
---
Schedule planning in Coreworx Deliverables Management is performed at three levels.
Scope of Work is linked to a WBS (work breakdown structure) code in the project schedule and is used to group related work packages. Reporting and dashboard web parts use this scope of work to monitor progress, and drill down to related work packages.
Work Packages are assigned milestones along with planned start and finish dates. Work packages are linked to activities in a project schedule.
Deliverables comprised of documents or forms are the measurable artifacts of any work package. This level defines the actual importance of each document within the package and the plan, actual, and forecast dates for the document's milestones. Earned Value, based on achieved milestones, is tracked at the document level.
Import and Export of various project scheduling tools including P6 and Microsoft Project.
Execute Work Processes
---
The progress of every individual document assigned to a package is rolled up to provide deliverable milestone data at a package level for Project Administrators. Required project resources are assigned based on specific skill sets. As each document deliverable progresses through its lifecycle, Coreworx automatically updates its milestones as they are achieved.Through automation of these milestone triggers, the highest level of accuracy on reporting progress is achieved. Project Administrators are provided visibility into the process and can share that visibility with the project team and other interested parties.
Dashboard & Reporting
---
Dashboards and reports provide quick and intuitive slices of information on key project processes, including:
Project Scorecards monitor the overall schedule performance index of scopes of work. The Project Manager selects the scopes (aligned with WBS codes in the project schedule) to include in their scorecard and the schedule performance index (SPI) is calculated for each scope, and displayed as a color, as defined in the projects scorecard color range.
Team Work Item Summaries can quickly identify overdue and critical path work items assigned to team members by monitoring configured workflow details.
Look-ahead Workload monitors workloads across team members and provides a summary of active and forecasted work a team will work on in the selected period of time down to the document level.
Schedule Slippage is a key web part tool to monitor document deliverables with either a late start or late finish by comparing planned versus actual start and finish dates.