Coreworx recently hosted a webinar series that focused on the integration of project management practices/processes, some well-known and well-practiced, and others, well one to be exact, new to the pack – interface management (IM).
The prompt for this webinar series came from the first annual Interface Management for Capital Project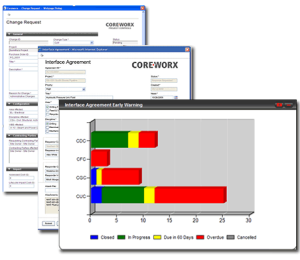 s conference. The conference brought together the world's leading interface management professionals for two days of sessions on the discipline of interface management. During the conference, it became clear that integrating interface management and change management is critical to project success because the two project management practices are tightly tied to one another and each can have a significant impact on the other.
In general, project practices are changing. Rather than focus on each work process in isolation, organizations are now looking at how these processes interact with each other to ensure they have the full view on how their projects are operating overall. To increase the benefits of IM specifically, organizations now want to expand its capabilities and increase its value by integrating it with the more 'mature' project management practices, such as change management (CHM), document deliverables management (DM), and risk management (RM).
When interface management and other project management practices (i.e. CHM, DM, RM) are integrated, project teams achieve the following advantages:
Increased visibility on full scope of work across project life cycle
Early identification of potential issues to the overall project, including early indicators that emanate from interfaces
More effective decision making tools
Consistent execution and data capture across the entire project
Intuitive document relations created between PM processes
Full audit trail to fully track or review all PM project activities
There are thousands, if not millions, of interrelated tasks that need to be executed in harmony throughout the project life cycle. On many projects, it is not uncommon for data to be scattered everywhere! The key to success is ensuring that all project teams, from internal to external, are working with all the information they need when making decisions and one way to accomplish this feat is to integrate all of your project information sources and processes.
However, this is no easy task. For most organizations, each of these project management processes is supported using different software packages that are provided by different vendors and offer little to no integration capabilities – and, on top of that, many others are still using manual project management methods. Another hurdle to accomplishing full integration is changing how people work – changing the organization structure and who is responsible. To achieve any of this, you need buy-in from the top and buy-in from all business units, and you can get this if you sell the value of integration, but in general, this is not a small task.
All projects can greatly benefit from data integration and interoperability between their critical work processes and it allows them to be more effective, increase awareness, and make better and more informed decisions, all of which help improve project performance to ultimately gain that competitive edge on projects.
Integration is a hot topic because it can provide so many benefits to projects, but it's still definitely something new for many projects.