We often tend to think of change management as the processes around a change:
Notice
Entitlement/Justification
Review
Approval/Rejection
While these processes are contract specific, these are generally the stage gates for changes. More likely than not, there is also a well-defined workflow for the preparation or evaluation of changes. These may change based on the type of change, discipline, dollar amount, or even area, system, or tag number.
The most common methodology for tracking multiple changes on a project or multiple projects continues to be Excel spreadsheets and periodic post hoc reporting. The problem with this method is two-fold:
It is very inefficient and prone to human error
There is no real-time tracking of the process and potential results
In terms of efficiency, estimates from a study on change management by the University of Waterloo in Canada indicates a 20% differential in using an automated change management system versus a manual system. When applied across all the participants in the change process and given both the number and complexity of changes, the impact can be significant, and even more significant when considering the fast-track project world we live in.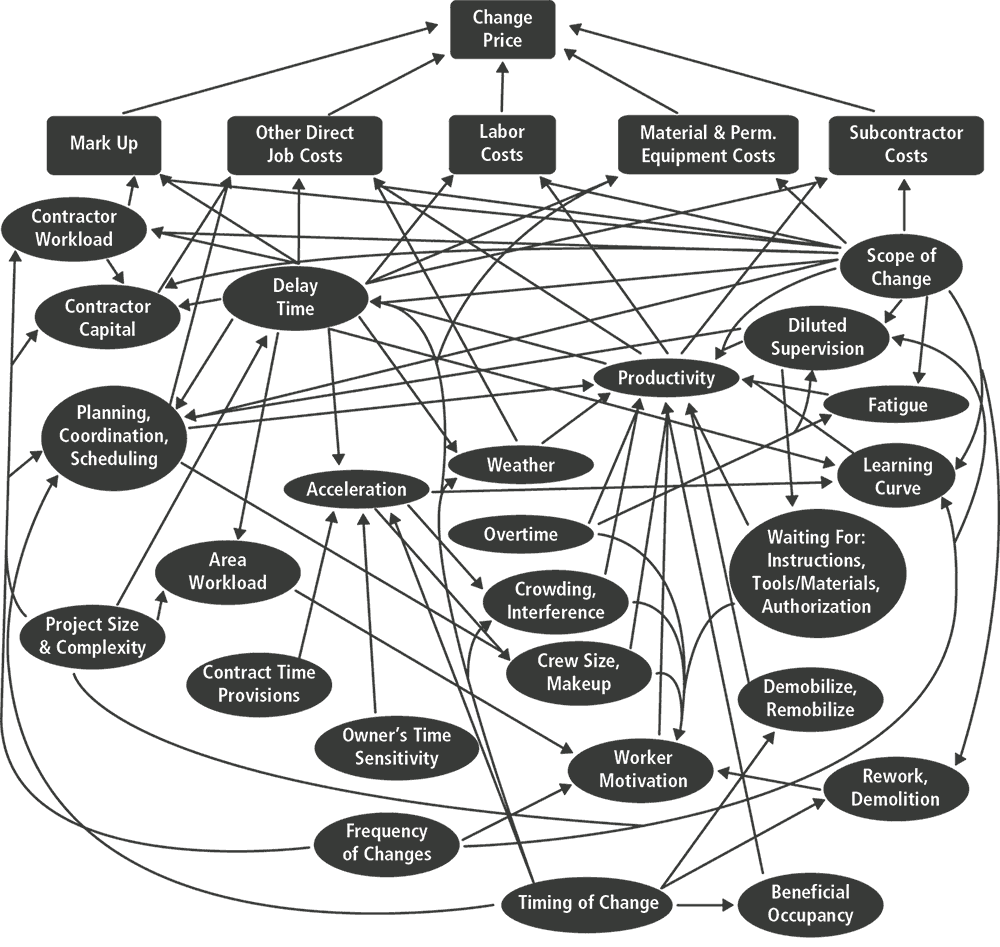 Change Price Influence Diagram
The human error side is much more complex. As discussed, changes typically have contractually-defined processes and procedures, not just for generating the change, but also the review process – here is an illustration of the complexities of a typical change workflow (click and expand for full image):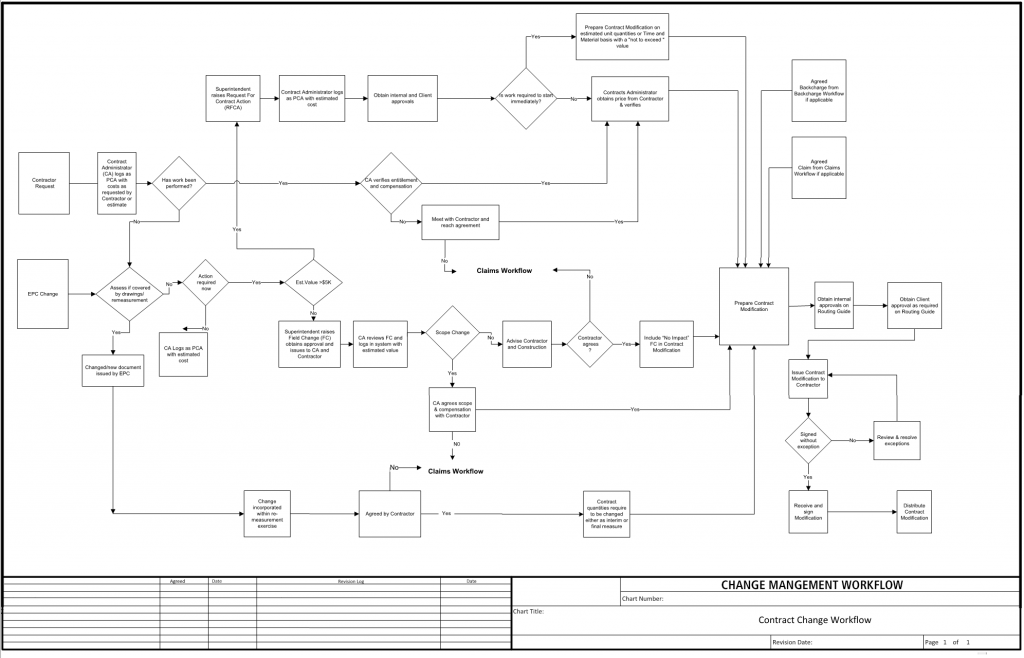 And they have time constraints as well. Some time constraints are built into the terms and conditions of the contract: time limitations on notice; time limitations on submission for commercial entitlement, and time limitations on clients for approval of vendor drawings, etc. These time limits are all very important since they can affect cost, cash flow, and the schedule of all project participants if they are not managed in a timely manner.
A more complex part of the change process is the relationship of the change to the project schedule. The biggest problem seems to arise when a decision must be made quickly with regard to the merits, or lack thereof, in order to keep the project on schedule. Essentially, you do not have the luxury of following the standard terms of the contract with regard to not starting change work without written authorization or you do not have time for the normal review and approval process. This can lead to what is commonly called "force account" work.
One can immediately see that, for management, Excel spreadsheets and post hoc reports can create a nightmare for tracking, budgeting, and scheduling. The real need is to automate the entire change process as much as possible and provide real-time reporting and dashboards around that process. What would that system require?
It would need a single, configurable template for all participants to generate the notice and then the justification/entitlement/pricing.
The template would provide drop down fields to select from in order to better define the type of change, the discipline, the area, along with an indication if the change has a potential cost or schedule impact.
It would need to allow participants to attach documentation directly to the template regardless of the type of document or source (controlled copies)
The template would need the ability to save in draft format to enable input gathering from multiple parties prior to submission to the responding party.
Likewise, that submission would need a "Save Draft" process for the response cycle so multiple parties can participate in the review process.
Remote (tablet) capabilities to improve efficiencies between remote field locations and offices.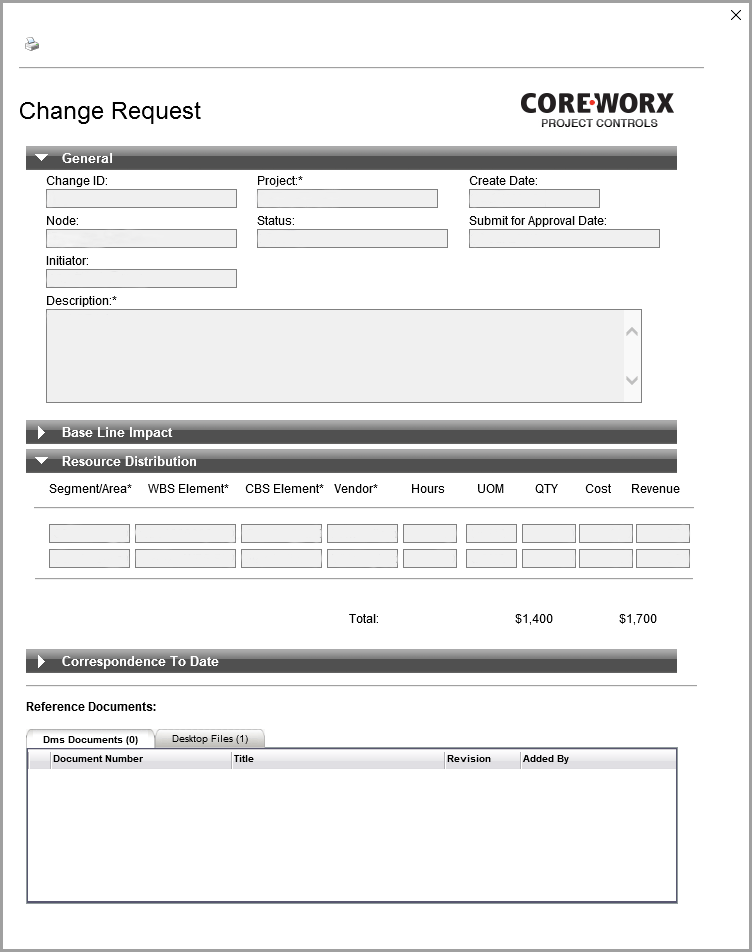 Change Request Form – This template, paired with the underlying workflows, enable dashboards and reports that provide management with real-time information.
Another important piece would be a robust, automated workflow system that maps to a client's review and approval process. At various stages, based on the type of changes, price, discipline, etc., different workflows can be kicked off. For example, a change type identified as a Claim may have a different workflow than one that is identified as an Engineering Change. In an automated system, the workflows will look at the template selections and automatically recognize not only the appropriate review and approval process, but the necessary inputs for reviewers and approvers.
That automated workflow should not only place the change in the appropriate work area in the system for the people in the workflow, it also needs to:
Send email notifications that a new change has been created and needs the recipient's attention
Organize those changes in the work area based on need dates
Give early warning notices that due dates are approaching
Advise others up the chain that delays are occurring at a certain spot in the workflow
With this information at one's fingertips, you can delve deeply into individual changes, even down to the supporting documentation. But even more importantly, it can allow management to begin to look for trends and perform root cause analysis to effect improvements:
By discipline
By contractor
By dollar amount
By notification dates
By systems
By type of change
The number of claims
It will also allow analysis for forecasting around deviations between assessed, proposed, and actual change values.
Coreworx Change Management Process Diagram
This is what Coreworx brings to the table with its Change Management Solution. A solution that provides you with a more efficient change management process and one that is infinitely more reliable while offering transparency in real time. With so much money at stake in the change process, it is an essential tool for all projects and companies.